He sent His Word and healed them, and delivered them from their destruction. ~Psalm 107:20
Home
---
---
Weekly Phone Meetings
Ninety Days of Encouragement: Monday mornings, Thursday mornings and evenings
Bible Studies: (7 week sessions) Monday evenings, Saturday mornings and evenings.
Times:
Mondays (5 AM/ 7 PM*) EST
Tuesday (12 Noon) EST
Thursdays (5:30 AM/ 7 PM) EST
Saturdays (7 AM*/ 7 PM*) EST
The starred meetings (*) are periodic Bible studies. Please check the calendar to see when they are in session.
Phone: 712-432-8700 (code: 9754763#)
---
---
COME TO THE BIBLE IMMERSION HALF-DAY WORKSHOPS
SATURDAY,  JANUARY 6, 2018.  1 PM – 5 PM.  861 MAIN STREET, HACKENSACK, NJ  07601
SATURDAY, JANUARY 13, 2018, 1 PM – 5 PM. THE SOLDIERS AND SAILORS CLUB, 283 LEXINGTON AVENUE, NEW YORK, NY  10035
IT'S FREE!  LET US KNOW IF YOU PLAN TO COME.  SEND AN EMAIL TO BibleForFood@gmail.com.
---
THE WAY YOU RELATE TO FOOD MIGHT BE THE HIDDEN PROBLEM

Hebrews 12:1 ~ …let us throw off everything that hinders…

Do you have a history of struggle with food and weight-related issues? This could be the year that you break free forever! The answer is in a stronger walk with Jesus. In Jesus, we are new creations. Because His Spirit indwells us, we have the stamina to continue to fight the good fight until victory is won!

Bible for Food Recovery is a group of Christian volunteers who have accepted the seriousness of being disciplined with eating. We have learned through many failures that undisciplined eating opens the door to much unnecessary suffering and pain. We have wasted many hours of precious time in this stronghold. Therefore we have chosen to give to the Lord the freedom of eating "whatever and whenever we please". We do this as a living sacrifice. (See Romans 12:1)

We have learned to see our disciplined eating as a fast. By definition, a fast is a voluntary restriction of food for the purpose of spending quality time with God and becoming more in tune with His magnificent presence.

When we first began this journey of disciplined eating, it was not easy. It required great determination and diligence. But sooner than we could ever believe, we began to experience many blessing! (See Hebrews 12:10-12)

We are "clear, clean and committed" in our eating for Jesus' sake. As we pray for and with each other, we are able to maintain our resolve. In addition, as individuals we are each strongly committed to daily prayer, Bible study, evangelism, and discipleship.

Bible for Food is largely a phone ministry. The monthly calendar gives the times, topics, phone number, and pin, so that you can explore and see if God might be calling you to join with us. The phone meetings are open meetings—anyone can listen in and be encouraged. You come on the line muted, and can click on and off the meetings whenever you desire.

Besides the phone meetings, Bible for Food has other services:
• The 90-Day Shepherd program
• Daily food sponsors
• Half-day Bible immersion workshops
• Weekend retreats three times a year

Coming to the weekly phone meetings is the best way to learn about us. You can also check through the tabs on our website or email BibleForFood@gmail.com.

Many Christians are being hindered and even placed on the sidelines because of their eating and weight issues. This doesn't have to be! Please pass along this information about Bible for Food. Please keep this ministry in your prayers.
---
---
---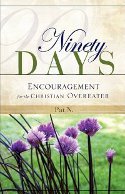 Ninety Days
Encouragement for the Christian Overeater
Contact us via email or by phone:
bibleforfood@gmail.com
214-205-5602

---