He sent His Word and healed them, and delivered them from their destruction. ~Psalm 107:20
Home
Weekly Phone Meetings
Monday mornings, Thursday mornings and evenings, Saturday mornings and evenings.
Times:
Mondays (5 AM) EST
Thursdays (5:30 AM/ 10 PM) EST
Most Saturdays (7 AM/ 10 PM) EST (Check calendar for details.)
Phone: 712-432-8700 (code: 9754763#)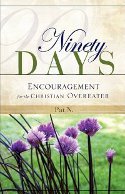 Ninety Days
Encouragement for the Christian Overeater
Contact us via email or by phone:
bibleforfood@gmail.com
301-774-3122

---
For we are His workmanship, created in Christ Jesus for good works, which God prepared beforehand, that we should walk in them. ~ Ephesians 2:10
THE BIBLE FOR FOOD RECOVERY SPRING RETREAT ~ APRIL 22-24, 2016
NORTHERN VIRGINIA (WASHINGTON DC AREA)

Bible for Food retreats are a way to fellowship with each others, but they are also a way for us to invite others to learn about food recovery from a Christ-centered perspective. There will be Bible Study lesson from the book of Ephesians and workshops on Bible immersion.  Additionally we will fellowship, worship, relax, and be encouraged.  God has richly blessed our past retreats.  We hope you will join us and bless us with your presence the next to the last weekend in April.
Dates: April 22-24, 2016
Place:Staybridge Suites Chantilly – Washington Dulles Airport, 3860 Centerview Drive, Chantilly, Virginia 20151
Retreat Price: FREE. Limited to 50 registered participants. Click here to register and receive your ticket via email.
Overnight Accommodations: Studio Suite/ 1 Queen/ $89 per night (up to 2 people sharing) OR One Bedroom Suite/ 2 Full Beds/ $99 per night (up to 4 people sharing).These are special hotel rates for those in the conference who make their reservations by April 1. Click here to make your hotel reservations.