He sent His Word and healed them, and delivered them from their destruction. ~Psalm 107:20
Home
---
---
Weekly Phone Meetings
Ninety Days of Encouragement: Monday mornings, Thursday mornings and evenings
Bible Studies: (7 week sessions) Monday evenings, Saturday mornings and evenings.
Times:
Mondays (5 AM/ 7 PM*) EST
Tuesday (12 Noon) EST
Thursdays (5:30 AM/ 7 PM) EST
Saturdays (7 AM*/ 7 PM*) EST
The starred meetings (*) are periodic Bible studies. Please check the calendar to see when they are in session.
Phone: 712-432-8700 (code: 9754763#)
---
---
THE BIBLE FOR FOOD RECOVERY FALL RETREAT ~ NOVEMBER 3-5, 2017

COSTA MESA, CALIFORNIA (The Ayres Hotel and Suites)
The Bible for Food retreats are a way to fellowship with one another. But they are also a way for us to invite others to learn about food recovery from a Christ-centered perspective. During the retreat, there will be Bible Study lessons from the gospel according to the book of John Chapter 11-15). There will be many opportunities to learn and practice Bible immersion. In addition, we will fellowship, worship, relax, and be encouraged! God has richly blessed our past retreats. We hope you will join us and bless us with your presence the first weekend in November.
Dates: November 3-5, 2017
Place: Ayres Hotel and Suites, 325 Bristol Street, Costa Mesa, CA 92626
Retreat Price: FREE. Reserve a spot soon—limited enrollment. Click here to register and receive your ticket via email.
Overnight Accommodations: We have secured 10 junior suites at the Ayres Hotel and Suites, 325 Bristol Street, Costa Mesa, CA 92626. These rooms will be $139 per night until October 13, 2017. Thereafter, reservations will be taken on a space available basis only. Take these steps right away if you are serious about coming: 1) register for the retreat through Eventbrite, 2) call the hotel directly at 714-429-9372. Tell them you are with The Bible for Food Recovery Group. Use a major credit card to reserve your room.
---
---
---
---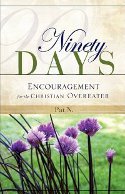 Ninety Days
Encouragement for the Christian Overeater
Contact us via email or by phone:
bibleforfood@gmail.com
214-205-5602

---