He sent His Word and healed them, and delivered them from their destruction. ~Psalm 107:20
Home
Seven Keys for Beginning a Lifetime of Abstinent Living
Make a sincere confession of faith. Commit to following Jesus with your whole heart. more…
Find a food plan that you can follow, unaltered, in the next 90 days. Ask the Lord to send you a food sponsor and to give you the willingness to work with this sponsor daily. more…
Begin reading through the Bible. Do some prayer and Bible study before your first meal of the day.
Do Bible-based journaling daily.
Make 3 outreach calls daily to other Christians in food recovery.
Before eating each planned, abstinent meal, offer a short prayer for your needs and for the needs of others.
Begin each day with goals for the day and a sketch of how you plan to use your time doing the work of the Lord.
Weekly Phone Meetings
Monday mornings, Thursday mornings and evenings, Saturday mornings and evenings.
Times:
Mondays (5 AM) EST
Thursdays (5:30 AM/ 10 PM) EST
Most Saturdays (7 AM/ 10 PM) EST (Check calendar for details.)
Phone: 712-432-8700 (code: 9754763#)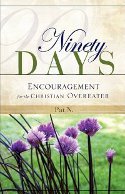 Ninety Days
Encouragement for the Christian Overeater
Contact us via email or by phone:
bibleforfood@gmail.com

301-774-3122