He sent His Word and healed them, and delivered them from their destruction. ~Psalm 107:20
Home
Seven Keys for Beginning a Lifetime of Abstinent Living
Make a sincere confession of faith. Commit to following Jesus with your whole heart. more…
Find a food plan that you can follow, unaltered, in the next 90 days. Ask the Lord to send you a food sponsor and to give you the willingness to work with this sponsor daily. more…
Begin reading through the Bible. Do some prayer and Bible study before your first meal of the day.
Do Bible-based journaling daily.
Make 3 outreach calls daily to other Christians in food recovery.
Before eating each planned, abstinent meal, offer a short prayer for your needs and for the needs of others.
Begin each day with goals for the day and a sketch of how you plan to use your time doing the work of the Lord.
Weekly Phone Meetings
Monday mornings, Thursday mornings and evenings, Saturday mornings and evenings.
Times:
Mondays (5 AM) EST
Thursdays (5:30 AM/ 10 PM) EST
Most Saturdays (7 AM/ 10 PM) EST (Check calendar for details.)
Phone: 712-432-8700 (code: 9754763#)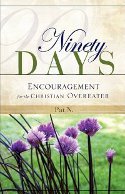 Ninety Days
Encouragement for the Christian Overeater
Contact us via email or by phone:
bibleforfood@gmail.com

301-774-3122

THE FALL RETREAT NOVEMBER 7-9,  2014
WASHINGTON, DC AREA

Bible for Food retreats are a way to fellowship with each others, but they are also a way for us to invite others to learn about food recovery from a Christ-centered perspective. There will be teaching and Bible study on the book of Ephesians.  Additionally we will fellowship, worship, relax, and be encouraged.  Each time God has richly blessed our past retreats.  We hope you will join us and bless us with your presence.
Dates: November 7-9, 2014
Hotel: Staybridge Suites, 3860 Centerview Drive, Chantilly, VA 20151
Price: The total retreat price is $135 (two to a room), and $200 (private room).
Commuter weekend price is $75.00
Every room is a suite. All rooms have a fully equipped kitchen with a microwave, a two-burner range, a full-size refrigerator, an ice maker, a dishwasher, a coffee maker, a toaster, cookware, dishes, and flatware.
A fitness center is available, free WiFi, free airport shuttle, and a hot breakfast buffet each morning.
Within walking distance to over 20 restaurants and retail stores.
See the hotel website at Staybridge Suites Chantilly
Download the retreat flyer and registration form.